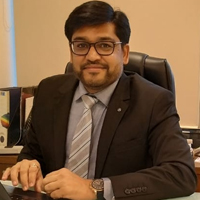 Ram Agarwal 
FCA – Project Quality Reviewer
[ Principal Advisor ]
---
Ram, in pursuance of his vision and professional objective, to have a professional outfit delivering high quality 360` ERP services, has played the lead role in establishing RAMA LLP under RAMA Group.
He has almost two decades of multi-layered, multi-disciplines 360° professional experience in the field of Risk Advisory & Management Assurance, ERP Implementation, Corporate Finance and Business Advisory services.
Ram has got extensive experience in handling Internal & Management audits, Risk-Based Internal audits, New Process Design, Process Review, Re-engineering & Transformation, Revenue Assurance, Business System Controls, Enterprise Risk Management, SOP Design, Financial Due Diligence, Fraud Investigation and ERP Implementation.
Ram has spearheaded several mid to large ticket size ERP and other value-add tools like BI and Logistics assignments across industries in India and overseas. RAMA's attractive ratio of successful ERP implementation and high retention of implemented projects in continuous support assignments speaks good credentials.
Ram has worked closely with several Indian prominent corporate houses and multinationals companies during his career. He has also worked for International Clients in the Middle East, Europe, USA and South East Asia regions.
With his all-around multi-faceted experience and exposure, Ram is best known for his apt & focused approach to delivering quality professional services to clients and successfully executing highly challenging and complex nature of assignments.
His instrumental role in developing the New Service verticals and overall firm & practice development across geographies during his past assignments speaks of his proven leadership and entrepreneurial abilities.
Kapil Bansal 
CA – Business Process Expert
[ Principal Advisor ]

---
Kapil has over 11 years of experience in Internal & Operational Audits, Compliance Audits, Business Process Reviews & Re-engineering, ERM and Designing SOPs etc. Worked with Mahajan & Aibara, HCL Technologies & SGCO & Co. He has managed multiple projects of ERP Implementations, re-implementations & ERP optimization studies.
VP – Strategy & Consulting (IT &ERP)
---
Worked in the field of IT Consulting for ERP, GRC, Audit taking care of Business Development and Marketing activities across MENA & India Sub- Continent.
Comprehensive knowledge of ERP (MS Dynamics, SAP, Oracle) . Also a Certified consultant of SAP.
Manish is spearheading  the ERP & consulting practice developing new strategies and incorporating industry best standards.
He has an experience in understanding customer need and developing industry best strategies to deliver solutions. Also very well versed with Client relationship management & Strategic Account Management.